| | | |
| --- | --- | --- |
| " | It says... 'This area is infected. Keep out.' | " |
Grape Vine Virus is a level in the video game World of Goo. It is the third level of Chapter 4. Here, Infected Goo is introduced by throwing a Launch Goo into the infected water. Goos must be launched higher between structures and Infected Goos must be used to extend the hanging structure on top of the level to reach the pipe. This level's name and design are references to computer viruses.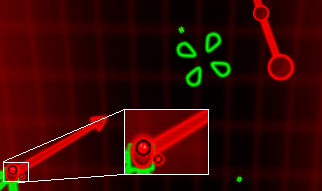 Strategy
Turn all except 4 Balls into Infected Goo and continue. Stay careful.
OCD Strategy
Turn only 10 into Infecteds. Always be sure the line is going straight down and there are never two attachments attached to one attachment.
Video strategy
Solution: Grape Vine Virus (Chapter 4)