"
Welcome to the Information Superhighway! A land of beauty! A land of science! Philosophy! Architecture! Fan fiction! Everything you see, from the water to the leaves are made from sweet free flowing information. See if you can catch some information on your tongue! Of course... the whole place was abandoned years ago. This must be all that's left.
"

—SignPaintr4evr
[Hello, World]
Hello, World is a level in the video game World of Goo. It is the first level of Chapter 4. In this level, Square Goo and Launch Goo are introduced. The player must learn how to use Launch Goo to make them launch from one Goo structure to another one one over a chasm, and then build to the pipe.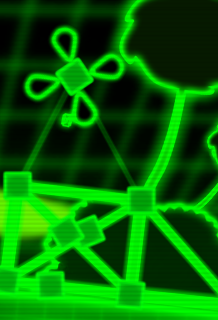 10 Goo method
If you stretch the Goos far enough to the pipe, you can use two Goos to reach the pipe.
Strategy
The level just teaches you how to launch Goo. No real strategy is needed.
OCD Strategy
Use the 10 Goo method to get to the pipe a little faster, and only launch who you need. Otherwise, be fast.
Trivia
The title of this level is a reference to the "Hello World" program.
This is the only level without a tagline.
Video strategy
Solution: Hello, World (Chapter 4)