Welcome to World of Goo Wiki!
World of Goo Wiki is an encyclopedia for everything related to the multi-platform video game, World of Goo. There are 177 articles and growing since this wiki was founded in November 2008.
The wiki format allows anyone to create or edit any article, so we can all work together to create a comprehensive database for World of Goo. After all, we're all in it together and you can't stop progress.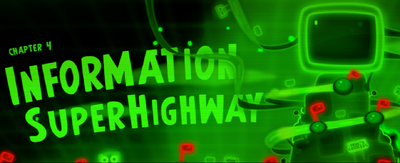 Chapter 4 is a chapter in the video game World of Goo. The byline of the chapter is "The Information Superhighway." Unlike the other chapters, which are associated with seasons, this chapter is simply referred to as "meanwhile..." in place of a season. As Chapter 3 was a satire on industrialization, factories, and big business, Chapter 4 is a parody of the internet and the world wide web.
When Chapter 4 begins, its graphics are an interesting change of pace from previous chapters. Colors have all become stark shades of green with occasional red, and familiar Goos like the Black Goo have been replaced with identical new versions, such as Square Goo. As Chapter 4 progresses, levels such as Road Blocks appear, which return to the original style of graphics.
Another irregularity of Chapter 4 is the introduction of species of Goo which are handled very differently from other species, specifically Launch Goo, Infected Goo, and Block Goo. These Goos are unique in that, unlike all other controllable Goos, they do not have to be attached to a structure for their actions to count as a "move," merely launched or picked up. (more...)
Not sure where to start?
Adding content
Talk and more...
Check out the community portal to see what the community is working on, to give feedback or just to say hi.